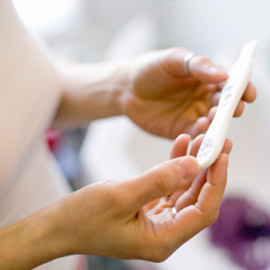 Infertility of women who wish for babies of their own could be saddening. But thanks to science, there is another way for women to possibly result to pregnancy and it is through IVF. IVF though, on the other hand, is not as easy as it seems, but with patience and understanding, one can actually receive the good results.
When Should I Take an IVF Pregnancy Test?
Approximately 35 hours before the egg retrieval has been done, HCG or Human Chorionic Gonadotropin is being planted to the female through injection where in the next 24 hours, the HCG level is tested to assure if the levels have raised just enough to mature embryo. Normally, embryos are transferred to the uterus in 3 or 5 days after the egg harvest, and implantation typically occurs in 6-10 days after the same egg harvest, but then, HCG doesn't easily produce in just a few days. HCG remains in the female's system for 5-14 days and positive HCG can be tested through a more sensitive pregnancy test in 10 or 11 days after a Luteinizing Hormone surge. LH surge does not occur in the IVF cycle, hopefully, but when simulated by the HCG injection, it could result to an overlap of the days that all the HCG injection isn't yet removed from the system and a IVF home pregnancy test is normally done, this can result to disappointing false results.
To have real positive results, patience step is to wait 14 more days after HCG injection clears out from your system. Once HPT is negative and HCG finally clears out, a positive result in a few days later is finally a real positive result because you finally have a new source of HCG that is normally produced during pregnancy.
Which Kind of Pregnancy Test Should I Take After IVF?
There are 2 ways to find out if you are positively pregnant: either do normal home IVF pregnancy test that does not give 100% real results or take a IVF pregnancy test in fertility clinics, called "beta pregnancy test", which will test your blood and reassure if you finally have real positive results. And it's actually up to your decision.
But do note that a normal home pregnancy test isn't completely accurate for women taking fertility medications, because it only reacts to the HCG that was injected to the system. It checks HCG only in your urine that is applicable to normal pregnancy that releases HCG in the woman's system naturally.
While the beta pregnancy test, which is highly recommended for women under the IVF process, checks your blood stream if it contains natural HCG contents and answers to actual and real pregnancy test results.
Watch this video and learn how this woman got pregnant after IVF tested by a blood test:
What Will Happen After Having an IVF Pregnancy Test?
1. Home Pregnancy Test
Positive results: Undergoing in vitro fertility treatment is a long bumpy road to pass because some do not really meet success in the end. And again, this home pregnancy test does not result to 100% accuracy, and that will just lead you to disappointment rather than excitement. Be patient to see your doctor and always consider their opinions. At the right moment, doctors will perform a blood test and an ultrasound to the female and the results can be able to confirm pregnancy.
Negative results: Once through with IVF, wait for the doctor's opinion if you are ready for the blood test and ultrasound in finding out if you're pregnant or not. Do not get carried away of the positive result of an HPT nor get stressed over its negative result because again, it is not accurate. Always remember that in this matter, doctors know best.
2. Blood Pregnancy Test
Positive results: After the first beta test results to positive, don't be too excited yet; however, do believe you have a chance. The HCG level checked will be showed to you through the number of levels of HCG found in your blood. Multiple IVF pregnancy tests will still continue and will be repeated within the next 2 to 3 days. This time, the goal is for the woman to have more HCG than the first one because when HCG grows rapidly, it means healthy pregnancy. If all the next 3 beta tests indicate a healthy pregnancy, you will be scheduled for an ultrasound in 6 to 8 weeks mark of your pregnancy and may be prescribed to continue fertility medications within the next 8 weeks to support upcoming pregnancy.
Negative results: If the beta test results to negative, the first try have failed and it could be disappointing. But if motivated enough to continue and try again, you can still undergo another cycle and maybe this time it will be successful. If up for a second try, women are instructed to take a break with medications to talk and discuss with doctors about what happened during the IVF cycle and what could be done to change negative results. Some start a new IVF cycle by their next menstrual cycle and do the process once more. Patients under IVF should keep in mind that not everyone succeeds, but not everyone fails.
How to Get Through the Rough Time While Waiting for the IVF Pregnancy Test Results
1. Stay Positive
When starting, it's possible for you to have multiple mood swings and irritation. Try to be optimistic to go through a day without too much stress as these strong emotions don't really change the outcome.
2. The Embryos Will Not "Fall Out"
It's a myth that this happens because they DO NOT. The embryo embedded itself to the walls of the uterus and nothing you do will make the embryo fall out even if you think it did.
3. Avoid Taking Progesterone
During the waiting period, avoid taking shots, progesterone, crinone, etc., as it may lead to pregnancy-like symptoms.
4. Talk to Your Friends
Consider having company to talk with while on the waiting period. Better choose a friend who will support and entertain you than those who are unsympathetic.
5. Take the Test Together with Your Partner
It's better to have the same interest of results as your partner. Take time to talk about the possible things and what to do with positive or negative results.
Keep in mind to call your doctor if you have necessary questions regarding your cycle, don't get stuck with curiosity without asking those who know best, they won't bite. Give them a call and they'd be surely happy to answer your questions, as they want to help you in every possible way they can.